Now available: newly constructed 3200 square ft. home with open, spacious floor plan and many unique features. A 1200 hundred square ft. boatshed (able to store 36 ft. boat) / garage with loft is attached.
Located on 2.5 acres on Eggemoggin Reach with 325 deep water frontage with dock and spectacular views in Little Deer Isle, Maine. A one of a kind opportunity. $1,850,000
See more photos in the gallery.
Richard Coakley ~ Summerbeam, Inc.

Summerbeam, Inc. of Maine designs and builds custom homes. Our designs are influenced by the simple functionalism of homes native to New England.

The heart of many of the original New England homes was the center chimney, story and one half cape. Over time, as finances allowed and needs dictated, the nucleus cape was added on to in countless imaginative ways, lending interest and intimacy to the original design as well as more space.

Different sizes and shapes combined to form a harmonious whole appropriate both functionally and visually to the New England climate and way of life. Time, successful experiments, mistakes and adaptations all have contributed to the evolution of designs which carry with them all the sensibleness and accumulated knowledge of three centuries.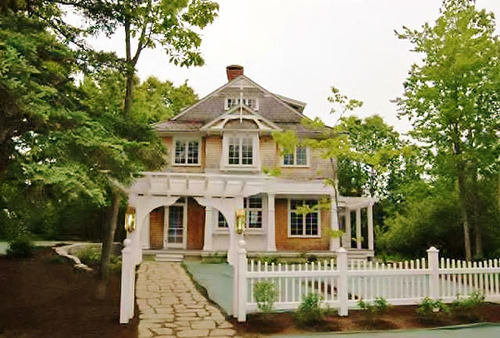 Using the traditional home as the backbone of our designs, it is also a point of departure from which we can pursue the needs and tastes of contemporary life; such as the opening up of interior space and the use of large amounts of thermopane windows where appropriate.

Besides the cape with its large center chimney fireplace and hearth, all Summerbeam homes make use of massive beamwork to support the second floor. In fact, the name Summerbeam is the traditional name for the large carrying timbers upon which the weight of the other beams rested. The beams serve aesthetic as well as structural uses. They add a feeling of strength and solidity to the structure and impart a sense of honesty that arises from a visual element also being a structural support. The beamed ceiling creates a rhythm joining room to room and the long summerbeams help accentuate horizontal space.

In building as well as designing, Richard Coakley has a hands-on approach and familiarity with all the materials used, and bases decisions on an understanding of the material's inherent qualities rather than relying on manufacturers promotions. Our designs and methods of construction are evolutionary in character. They are the results of experience based on the close relationship we have with each house we build. In general, we are constantly striving for innovative concepts and refined methods to give our clients the best home possible.

Please visit us when on the Blue Hill Peninsula and the areas surrounding upper Penobscot Bay. The varied geographical beauty of it's mountains, bays, lakes, tidal estuaries, myriad of islands and open ocean, and the warmth of its people, gives us inspiration and joy the year round.

Click magazine to read the Maine Boats & Harbors article about Richard Coakley.