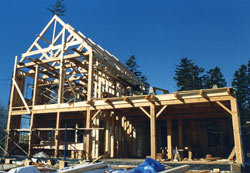 Exterior walls are framed with two by six studs, sheathed with half inch plywood covered with an air infiltration barrier, Tyvek, and insulated with six inch foil faced fiberglass Insulation to produce an airtight wall with an P value well over R20. The ceilings of the second floor, where major heat loss occurs, are insulated to a value of R49. Velux insulated roof windows are used on the second floors. We consider these Danish made windows the best available and an excellent substitute for costly and high maintenance prone dormers.


Our preferred siding is clear straight grain Western Red Cedar clapboards. This stable, rot resistant material can be stained, painted or oiled to bring out the natural warm color of the wood. Roofs are finished with clear native cedar shingles specially cut for us. We feel that the combination of brick, cedar clapboards and cedar roofs create a functional beauty unmatched by manufactured synthetic materials.
In an effort to combine the efficiencies of contemporary building practices with the charm of the traditional home, energy efficient Andersen, Marvin or Pella windows are used except where traditional multipane units are placed to maintain aesthetic integrity.

Click on an image to enlarge.